Valentine Project – Updated!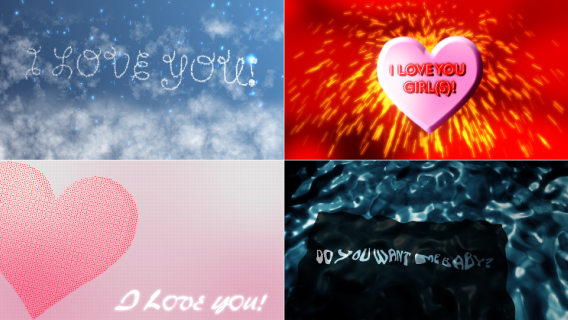 Hello there! It's been a long time since the last update so we should start to show you some new stuff for 2011.
As all of you know, it's close to the Valentine's day so we bring you a free AfterEffects project download with four Valentine motion graphic templates that you can hopefully use to gladden your girlfried or so. Remember, it's a project file so you can adjust it however you need (type her name in there or perhaps yours etc.) and render out either image or a video, it's up to you!
Here you can see the video preview of all the templates!
"Lovely" created by Novotass.
"Cloudy", "Hearty" and "Lunar" created by Feedee.
Finally it's necessary to say that you will need After Effects CS4 or newer to open this project. All the templates are ready in Full HD resolution so you can make your final videos pretty large if you need to.
For two of the templates, it is necessary to have Trapcode Particular 2.
If you have Knoll Light Factory or Optical Flares, it's also a plus, but if you don't have them, it's still OK. Just shut off the Optical Flares and Knoll Light Factory layers and use a standard After Effects lens flare (with the Beam attached to it included in the project).
We hope you'll find these templates usefull and inspiring and maybe create your own ideas as well. Of course don't forget to check out our blog! More updates will come out soon! Anyway happy Valentine's day and stay tuned!